Comedy Nights
Entertainment & Bookings
Fashion Parades
Multicultural Events
Production Shows
Spring Festivals
Tours and Concerts

Eurobiz has been operating for over 20 years. The company embraces virtually every facet of entertainment and event promotion - from concept through to final production, live or video. Providing full show packaging service, from capital city tours with headliner acts to specialised cabaret style.

Eurobiz has additional expertise in creating multicultural events and street fairs. Its entertainment management for the Italian Festa on Norton built it into a Sydney icon, attracting 250,000 people from all over town to Leichhardt's big day of the year. The company will also tailor smaller scale events and multicultural shows for Shopping and Civic Centres.


Eurobiz is a division of the RM Media Group, whose activities also span: Online Dining Guides & Restaurant Directories; Web Design & Internet Hosting; Retail & Destinantion Promotion; Marketing and Communications.
Eurobiz is based in substantial past experience in touring major Italian and other European Artists throughout capital city venues throughout Australia. The operation enjoys an excellent level of contacts in the USA, Canada, the UK, and many Italian regions and capitals.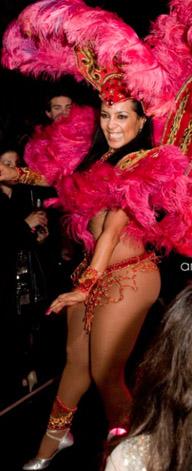 Cristina Ramon
The Queen of Samba performing live at a Victoria's Secret event. Cristina has also starred in many stage and film productions, such as The Lion King and Matrix. Cristina's talent extends to teaching Samba at many Sydney dance studios – also to choreography, which she has contributed to many shows here and abroad. Dances at many Samba Congresses. Bookings through Eurobiz.


Eurobis Management

Enquiries or Phone:
Phone: +612 414404010

E-mail: info@eurobis.net