Comedy Nights
Entertainment & Bookings
Fashion Parades
Multicultural Events
Production Shows
Spring Festivals
Tours and Concerts

Eurobiz has been operating for over 20 years. The company embraces virtually every facet of entertainment and event promotion - from concept through to final production, live or video. Providing full show packaging service, from capital city tours with headliner acts to specialised cabaret style.

Eurobiz has additional expertise in creating multicultural events and street fairs. Its entertainment management for the Italian Festa on Norton built it into a Sydney icon, attracting 250,000 people from all over town to Leichhardt's big day of the year. The company will also tailor smaller scale events and multicultural shows for Shopping and Civic Centres.



Italian singing stars Mariella Bella and Lucio Dalla relax at a post-concert cocktail party at the Ritz Hotel, during their first Australian concert tour for Eurobiz.

Thousands of ecstatic teenagers queued for hours to catch pop legend Pupo at the Sydney Entertainment Centre. One of the hottest concerts ever on the Eurobiz international tour diary. Eurobiz toured a wide range of top solo artists and groups from Europe and the USA.

A colourful Spring Fashion Parade organised by Eurobiz for The Italian Forum. The unique Italian-style centre was packed with viewers many of whom went home with great holiday & beauty prizes.

Ross Maio, fisarmonica player, is the type of fully professional and multi-talented artist that Eurobiz can offer. Whatever your needs - corporate function, restaurant birthday or anniversary, or home celebration with a difference, Eurobiz can match the right talent.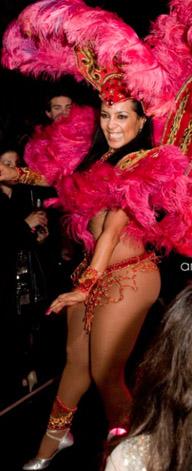 Cristina Ramon
The Queen of Samba performing live at a Victoria's Secret event. Cristina has also starred in many stage and film productions, such as The Lion King and Matrix. Cristina's talent extends to teaching Samba at many Sydney dance studios – also to choreography, which she has contributed to many shows here and abroad. Dances at many Samba Congresses. Bookings through Eurobiz.


Eurobis Management

Enquiries or Phone:
Phone: +612 414404010

E-mail: info@eurobis.net